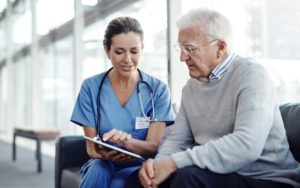 How we deliver our care
Samkay Health prides itself on having passionate and motivated staff. Our long standing staff are critical for the smooth functioning of everyday activities at our residences. Our team of trained staff are our most important resource and we ensure they remain committed to our care models while delivering care that makes a difference. Our Nurse Management Team is a culmination of decades of clinical aged care experience which ensures our Residents' health is our No. 1 priority. Samkay Health have 24/7 Registered Nurses at all our residences.
Our Residences have been designed by experienced architects to offer a comfortable environment. Dedicated memory care units are also available for residents.
Our nurse management platform is used to create individually tailored care plans in consultation with medical professionals and family members. Regular visits by our doctors and Allied Health service providers i.e. physiotherapy, podiatry, etc are also offered at our residences.
All our residences have been fitted with a nurse call system which provides ease of use and ensures that our trained staff are just a call away for our residents.
What is our lifestyle program all about?
Our Lifestyle team design their programs to capture the whims and fancies of all our residents. Whether it be gardening, beauty therapy for our lovely ladies or carpentry for our mighty men, there is an activity for everyone. You do not need to abandon your hobbies and likes when you come to Samkay Health. In fact, you may even pick up a new one at our residences. Our lifestyle team is also open to ideas and suggestions to incorporate new activities in our programs.
In addition to the diverse range of activities offered, our residences also offer the following lifestyle programs and activities for our residents:
Music and Recreation Therapy – Encourage social interaction with our residents and recreate old memories for residents.
Resident's Day Out – Outings to local parks, clubs, restaurants and areas of interest.
Spa and Beauty Therapy

Spa Therapy and Massage – Explore a positive and relaxing environment
Beauty Therapy – Hairdressing and beauty services available for our residents to treat themselves.

Singing and Entertainment – Community groups who provide laughter and entertainment to our residents after a hearty meal.
Allied Health services – We provide Physiotherapy, Podiatry, Eye care, Speech Therapist and various other Allied services based on resident's needs and care requirements.
Dining with us
Our seasonal menus have been tastefully created in consultation with our dietician, residents and staff. Nutritious dishes and meals are prepared for our diverse residents' needs. All meals are freshly prepared and served piping hot to provide a tantalising dining experience for our residents. The meals are served in our resplendent dining rooms or in the comfort of your own room, if required.
Menus are reviewed regularly to ensure variety and based on residents' feedback and dietary requirements. We also encourage our residents to use our private dining options for a more intimate dining experience with their families and/or friends.